Giro del Belvedere – 100 years of history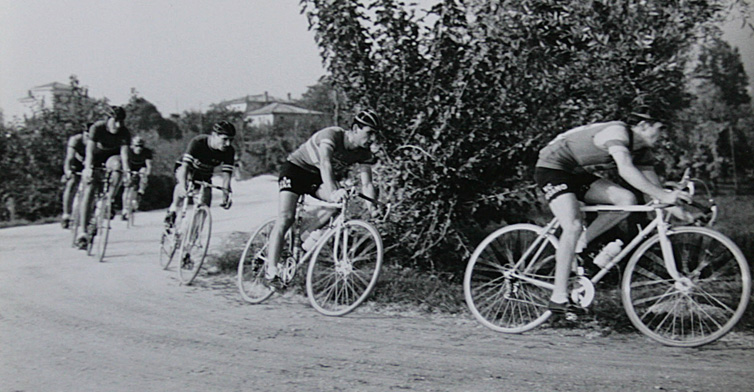 The Giro del Belvedere cycle race was born in 1923 and took his name from Mocenigo Villa. It took place once on dusty and dirt roads and the first winner was Alfonso Piccin, from the Cordignano team.
During the Second World War it was temporarily interrupted, but since the postwar period it has been regularly contested on Villa di Villa roads, together with the Wine Exhibition: it was and it still is unthinkable that these two events could be separated.
Between 1963 and 1965, the race was run on the short country course known as "il giro del borgo" ("the village route"), but since the following year the race would be run again on the original tour. This has approximately never changed during the years and it still covers Villa di Villa, Sarmede and Silvella territories.
In the late sixties the race started to take place every year on Easter Monday, and for the sportsmen it became the "Easter Monday classic".
The high value of the cyclists that participated in the race and the greater and greater flow of people that came to see them testified the prestige of the race, that became an international race in 1979. The number of foreign cyclists continued to grow in the following years: they come from every world country that has got a cycling tradition.
The increasing level of the race induce the organizers to think about a more demanding route. So, in 1985 they put in the tour the short incline that leads to Rugolo, and in 1993 they made the decisive variation: the cyclists would have to fight twice on Canalet steep slopes, that lead from Sarmede to Montaner. These terrible slopes reach even the 20%! The first cyclist that brought honour to the new route with his victory was Alessandro Bertolini, with his Italian tricolour T-shirt.
In the Giro del Belvedere roll of honour you can meet protagonists of the cycling history: Vito Favero (he was once for a long time the winner of a Tour de France), Gianni Giacomin (he won the Giro del Belvedere the year following his victory as worlds champion, Silvio Martinello (Olympic champion), Maurizio Fondriest (great professional and winner of a Sanremo competition), Ivan Gotti (he twice won in Milan the "pink T-shirt", the symbol of the victory in the "Giro d'Italia"), Biagio Conte, Yaroslav Popovych, Sacha Modol, Aleksandr Riabushenko, Stefan Kung, Andrea Vendrame and Samuele Battistella.